24/7 Truck & Trailer Repair – Road Service Montreal
Fast, efficient and always available. We make hitting the road easier.
Canvec is waiting for your call
When you contact Canvec, experienced road truck service experts will be dispatched to you immediately. These trained, experienced technicians travel in our road service mobile and can deal with any common or complicated truck and trailer issue.
Getting your truck and trailer repaired and back on the road is our priority, trust Canvec for your emergency road service and truck/trailer repairs!
Call now!
Road Service Montreal + 100 km 
Canvec offers 24/7 Truck and trailer repairs in Montreal and within a 100 km radius of the city. Our truck repair service is fast, efficient and always available.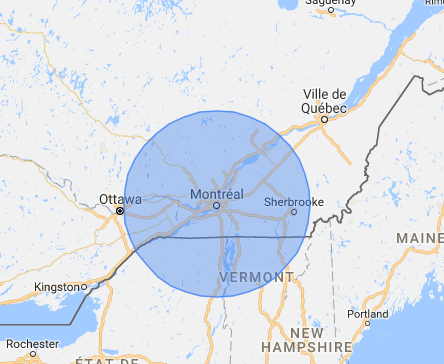 On the road, anything can happen.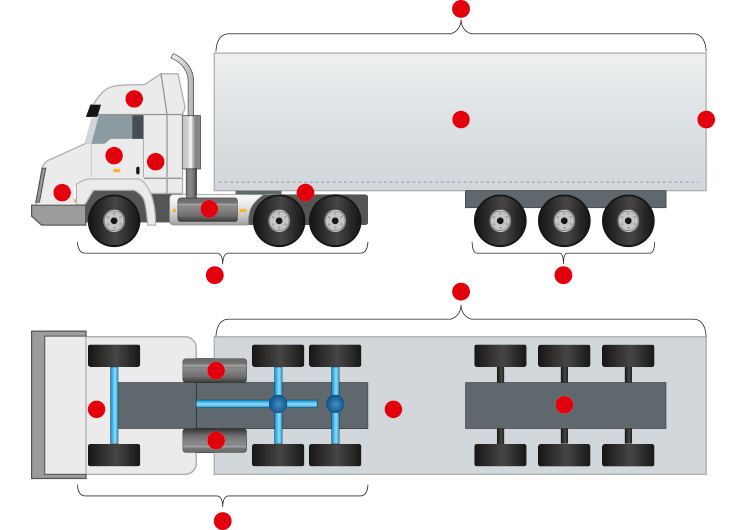 It might be a simple broken or missing mud flap, a broken wiper blade, or a tailgate malfunction. Maybe your engine won't start, or you have a frozen fuel line or a complex air system issue. Whatever the problem, our experts at Canvec will diagnose, repair it on the spot and get your truck and trailer rolling again as quickly as possible, with minimal downtime. Our technicians are specifically trained to work on any type of truck and trailer, and our mobile units are fully equipped to enable our technicians to solve any type of mechanical problem you may encounter.
Here's an overview of the most common issues we can address:
No start
Frozen fuel line
Brakes
Valves
Mud flaps
Alternator
Frozen air Line
Air dryer
Hydraulic
Tailgate
Boost
Radiator, Prestone
Roof damage, snow
7-way electrical plug
Air system
ABS
Brake booster
Wheel oil hubcap
Brake system or lines
Wipers
Fuse
Breaker
Suspension
Engine
You encounter a problem? Our professionals will handle the situation for you!
Our team of dedicated and efficient professionals can perform the maintenance of your fleet so that you can focus on the most important issues of your company.
Simplify your business! 
One phone number.
Call us toll free at 1 800 210-9921. For Canvec Leasing fleets, our contact number can be found on the sticker in the front of all our trailers. We guarantee an answer to each of your calls and offer our service in English and French.  
Arrival on site.
Our technician will help you as soon as he arrives and we will stay in constant communication with you and/or your driver until the end of the service call. We will support you during the whole process to make sure everything goes smoothly.  
Quick response.
After our agent has gathered your information, he will send a technician to assist you. We will inform you of the time of his arrival (ETA = Estimated Time of Arrival).
Back on the road.
If you wish, we can inform you and/or your driver by phone that the equipment is back on the road. A service report is also sent to you by email at the end of the call.
Why Canvec?  
Canvec is a leading truck and trailer rental and leasing company with 800 units on the road and on hand. We're a family-operated business, and we know truck and trailers inside out. Plus, our staff is perfectly bilingual to serve you better.
We use only state-of-the-art equipment for all of our assets, and our fleet of mobile emergency repair service units is operated by the best technicians around. They use the best tools and a variety of parts that cover a wide range of applications.
We keep current with innovative information technologies and data management techniques to minimize paperwork and resolve problems quickly and efficiently. Our mission is to get you back on the road as soon as possible and provide you with all the reports you need.
Thanks to our expertise, responsiveness and replacement part inventory, your truck will be back on the road quickly and safely. You will also be totally compliant, and will be able to prove it with the live service report we provide with every 24/7 service call we make.
Outstanding customer service, professional, courteous and trained technicians, creative solutions and a comprehensive array of tools and equipment are some of the reasons why you should trust Canvec for all your emergency truck and trailer repair services in and around Montreal.   
Call now